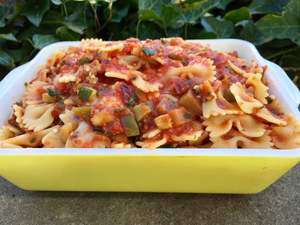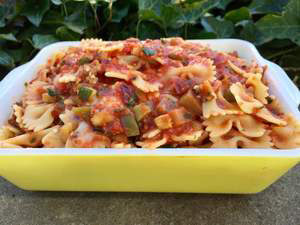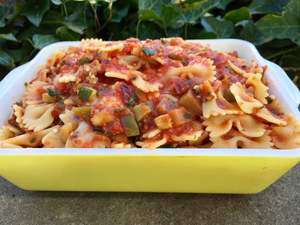 Busy moms need to be prepared for whatever the day brings. When my children were younger, winter months were spent playing recreational basketball and indoor batting practice for spring baseball/softball. You need a meal that you can prepare ahead and just heat up so that dinner can be ready on time and out the door you go for a sporting activity. A dish I like to prepare then and now is eggplant and macaroni casserole.
Many years ago, I was part of group of co-workers that got together every other month or so and we go to each other's house for lunch or dinner. My friend, Marlene, prepared this pasta casserole. It's absolutely delicious! While it does have pasta, it is supplemented with a tomato sauce that contains green pepper, eggplant, zucchini and some onion. Small pieces of provolone cheese add a burst of taste. The herbs in the dish really round out the flavor.
Eggplant and Macaroni Casserole
From Marlene
1 Tbsp. olive oil                                     1 garlic clove, minced
1 small/med. Eggplant, diced            1/2 tsp. dry parsley (fresh if you have it)
1 small/med. Zucchini, sliced            1/2 tsp. dry basil (fresh if you have it)
1 medium green pepper, chopped    1/2 tsp salt
1 medium onion, chopped                  1/4 tsp. pepper
1 large can crushed tomatoes             1/2 tsp. dry thyme (fresh if you have it)
1 lb. box macaroni shells                     2-3 oz. provolone cheese, diced
Topping:
1/4 c. seasoned breadcrumbs
1/4 cup grated Parmesan cheese
Preheat oven to 375°
In a large skillet, heat oil. Add eggplant, zucchini, pepper, onion and garlic. Cover and cook 10-15 minutes stirring 2-3 times. Add tomatoes, thyme, salt pepper parsley and basil. Cook covered for 15 minutes or so (add a little water if too thick.). Boil macaroni in lightly salted water. Drain and return to pot. Stir in eggplant mixture and provolone. Pour in ungreased baking dish. Mix breadcrumbs and Parmesan cheese together. Spread on top of casserole. Bake 15-20 minutes or until top is browned.
Another good one dish meal to prepare is Shepherd's Pie. I keep this one real easy and simple, I purchase Colman's of Norwich Shepherd's Pie seasoning mix. You can purchase this at Wegmans. I did a Google search, "Colman's of Norwich+available USA," and discovered that it can be ordered from Amazon, available at Cost Plus World Market and at a website called, http://www.britishfoodshop.com/. Instead of using ground beef, I use ground turkey. While the recipe calls for sliced fresh carrots, I have substituted frozen peas and carrots.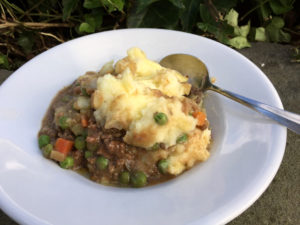 Shepherd's Pie
1 packet of Coleman's Shepherd's Pie Seasoning Mix
1 pound ground beef or ground turkey
1 large onion diced
Approximately 10 oz. cold water
2 carrots sliced (I used about 1 cup of frozen peas and carrots)
Approximately 1-1/2 lbs. mashed potatoes
Preheat oven to 400°F. Brown the beef/ground turkey and onions in a large pan. Drain off any excess fat. (If using ground turkey, I suggest a teaspoon of vegetable oil to help brown the meat).
Blend in the contents of the packet with the water and stir into the mine, add the carrots and peas. Bring to a boil, stirring continuously, and then transfer to an ovenproof dish.
Spoon the mashed potato over the meat and bake for 30 minutes.   I either spray the potatoes with olive oil or dot with a few thin pats of butter to brown the potatoes.