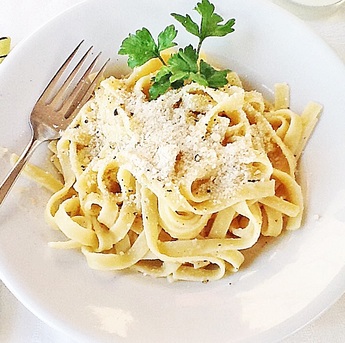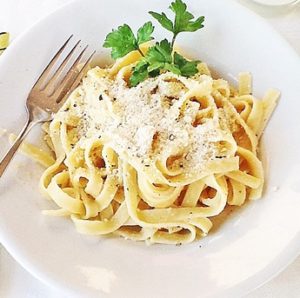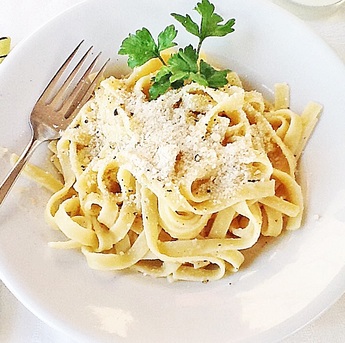 Many years ago, Arthur Schwartz hosted 'Food Talk' on WOR710AM radio and his mantra was "Everything in Moderation". When my husband became concerned with his cholesterol levels I made an effort to change our diet. Gone was the beef we ate almost every night. More poultry and pork was added. I am much more conscious of sodium and fat content in the food we eat. Rich foods are consumed much less frequently and I try to find comparable recipes, with a lower fat content.
My husband loves his weekly pasta, but fettuccine Alfredo was one of those meals with a cream sauce that was to be avoided. My daughter, however, came to the rescue with a recipe for creamy cauliflower sauce that mimics the original Alfredo sauce.

Way back when, there was a recipe for Alfredo sauce on the Ronzoni Pasta package. The recipe called for 2/3 cup of light cream, 1/4 lb. butter and one egg yolk.
This creamy cauliflower recipe has 1/4 cup of cream and only a tablespoon of butter. Although not called for, you should add grated Parmesan Reggiano cheese. It is very close in taste to the real deal.
Give this recipe for a healthy Fettuccine Alfredo sauce a try, you won't feel guilty eating something that tastes rich, but is healthier than the original. It takes approximately 30 minutes to prepare. I was able to get two pasta meals out of this recipe, each time using one pound of dry pasta, I have made this recipe several times and have frozen it for later use. Except for the vegetable broth, all ingredients are pantry basics.
Healthy Fettuccine Alfredo
Recipe courtesy of Pinch of Yum
prep time:  15 mins
cook time:  15 mins
total time:  30 mins
serves: 8
INGREDIENTS
1 lb. uncooked fettuccine noodles

3 small heads cauliflower

6 cups vegetable broth

6 cloves garlic, minced

1 tablespoon butter

1 teaspoon salt

pinch of nutmeg

pinch of black pepper

1 tablespoon olive oil

¼ cup heavy cream

1 cup starchy boiling water from pasta pot

1/2 cup grated Parmesan Reggiano

INSTRUCTIONS
Chop the cauliflower. Bring the vegetable broth to a boil over medium high heat and add cauliflower. Cook until cauliflower is soft, about 15 minutes. In my experience, the longer you cook it, the smoother the sauce will be. Meanwhile, melt the butter in a large skillet over medium heat. Add the minced garlic and saute for 4-5 minutes or until soft and fragrant.

As the garlic and cauliflower are cooking, bring a large pot of water to boil and cook the fettuccine according to directions on package, reserving some of the starchy water to add to the sauce later.

Transfer cauliflower to a blender with about 2 cups of the broth. You may need to do this in batches depending on the size of your blender. Add the sauteed garlic, salt, nutmeg, and black pepper and puree until very smooth, about 5 minutes. Once the mixture is moving, stream the olive oil into the blender. Add more broth or water if the mixture is too thick to move through the blender. You want it to turn through the blender easily. When puree is very smooth, transfer back to the butter/garlic skillet.

Add the cream and cook over low heat. Add the starchy pasta water (or regular water if you're not making pasta) and keep warm until ready to serve. Combine pasta, sauce and Parmesan cheese in a large pot or skillet and serve immediately.