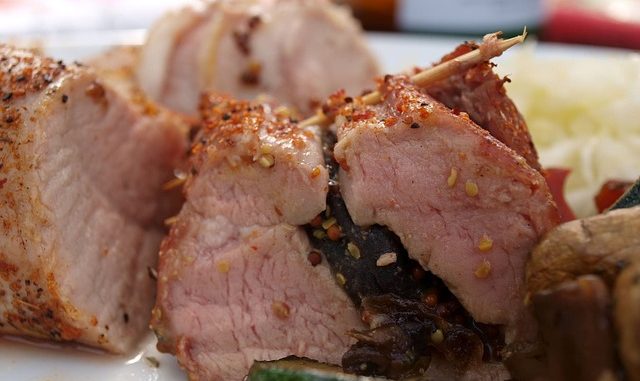 Occasionally at work I have the last shift and don't get home until 9. You barely get your day going and bam, you're making supper at 11:30 in the morning! It's a challenge to find an effortless meal. Besides eating lots of chicken, I find pork tenderloins make a delicious alternative. They usually come two to a package and require minimal amount of prep. You always want to make sure that you remove the silver skin from the tenderloin and perhaps some small pieces of fat.
I found on Williams-Sonoma's website a recipe for Marinated Pork Tenderloin. It is marinated in a balsamic-rosemary marinade for approximately 2 hours, then grilled for 20 minutes.
There was no fresh rosemary so I used dried. Tie the herb in with some roasted potatoes on the grill. I have aluminum cooking nails that you place in the center of the potatoes to help cook them quickly. Make slices down to the nail, and season with salt, pepper, a drizzle of olive oil and sprinkle some chopped rosemary. Wrap the potatoes in heavy duty aluminum foil and start them ahead of the pork. Depending on the size and type of potato, they'll need to cook for about 30 minutes.
Another go to recipe for a quick meal is Pork Tenderloins with Apples from an article in the New York Times, "A Way to Tastier Pork: Less Time and More Heat," by Barbara Kafka, published on October 29, 1997.
It's a 30 minute dish, in which you can have the entire meal done in that time. Basic ingredients are Dijon mustard, fresh lemon juice, heavy cream (I used half and half) and Granny Smith apples.
One last recipe that my husband and I enjoy is pork tenderloin with maple glaze from Buon Appétit Magazine October 2000. The basic ingredients are dried sage, pure maple syrup, apple cider vinegar and Dijon mustard. It is done on the stove top in under 30 minutes.
Those are three great recipes for busy moms on the go!