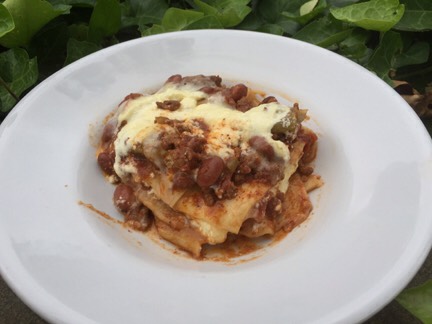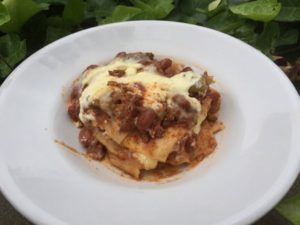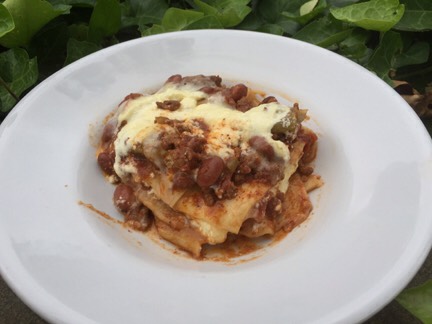 Makes 8 Servings
Our family use to subscribe to Prevention Magazine. Back in May 2001, Prevention published a recipe for Mexican Lasagna. Being of Italian descent, I was intrigued with this recipe. I didn't have to use lasagna noodles, it took less ricotta than traditional lasagna and the use of beans added high fiber to the dish.  Mexican style stewed tomatoes also gave the dish a nice twist.
While some of the ingredients are either fat free, reduced fat or egg substitute, I decided to use regular ricotta, cheese and eggs in the recipe. In lieu of the 95% lean beef, I used 80/20. My husband and I don't eat a lot of beef, so for us I made the swap outs.
In under an hour you have a hearty meal for your family. With the weather that is predicted for our area this week, a supper like this is both hearty and filling. I would suggest rounding out this meal with a tossed salad.
Mexican Lasagna
Prevention Magazine, May 2001
Reprinted from The Good Carb Cookbook: Secrets to Eating Low on the Glycemic Index by Sandra Woodruff, MS, RD
1 cup fat free or reduced fat ricotta cheese*
¼ cup + 2 tablespoon liquid egg substitute*
1 pound 95% lean ground beef*
1 14 oz. can Mexican style stewed tomatoes, crushed and undrained
2 tablespoons tomato paste
1 15 oz. can black or pinto beans, drained
1 4 oz. can chopped green chiles, drained
1 tablespoon chili powder
10 corn tortillas (6" rounds)
2-1/2 cup fat free or reduced fat Monterey Jack or Cheddar Cheese
*I used whole milk ricotta cheese, 2 eggs, 80/20 ground beef and regular Monterey Jack cheese.
Combine the ricotta and egg substitute in a small bowl and stir to mix well. Set aside.
Place the ground beef in large nonstick skillet over medium heat. Cook, stirring to crumble, until the meat is no longer pink. Add the tomatoes, tomato paste, beans, chiles and chili powder and stir to mix well. Cook, uncovered, stirring frequently, for about 10 minutes, or until the mixture is thick. Remove the skillet from the heat and set aside.
Coat a 13"x 9" pan with cooking spray and line the bottom of the pan with five of the tortillas, slightly overlapping them. (You will need to cut one of the tortillas in half.) Spread half of the meat mixture over the tortillas, dot with half of the ricotta mixture and top with half of the cheese. Repeat the layers using the remaining ingredients.
Cover the pan with foil, and bake at 350° for 25 minutes. Remove the foil, and bake for five minutes longer, or until the tortillas are heated through and the cheese is melted. Remove the pan from the oven, and let it sit for 10 minutes before cutting into squares and serving.