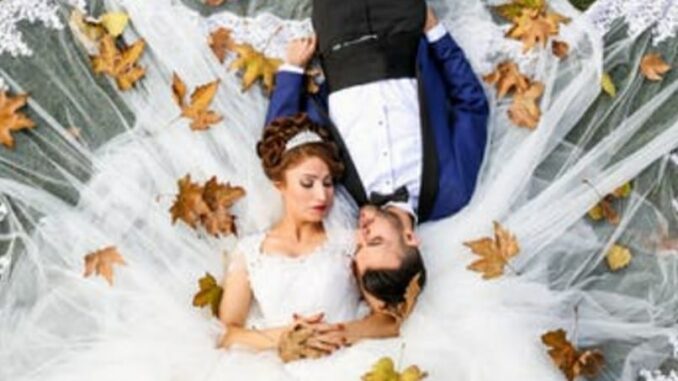 What is a relationship? Is it a contract or a commitment to a person?
Yes, you are right if you think that it is both!
A wedding is just like any other contract, either personal or business-related.
If you are to be married to your beloved in the near future, you have hopes and dreams and so many days yet to be fulfilled.
As a young bride and groom love brought you to the altar to a justice of the peace to say your vows to each other.
It does not matter by state or church, you are making a contract to each other, at a small cost. It also depends on the size of the gathering and how elaborate these vows are.
The price for an elaborate event can be in the thousands. A very heavy debt to pay for committing to love each other forever.
Statistics say-
The national average cost of a wedding dress is $1,631 (including alterations). Dress prices are based on various factors and generally range from $500 to $4,000.
The average price of a dress by one of these designers is $2500, but it could be more or less depending upon the embroidery, the quality of the fabric, and the detail of the design.
So in the USA, it costs about $2000 to 3000 dollars for the dress alterations and fittings for the day.
According to-The Knot
In the U.S., weddings cost an average of $33,900 in 2019, including all the expenses related to the engagement ring, ceremony, and reception, according to the latest Real Weddings study from The Knot.
The cheapest dress at the average bridal store special-order designer starts at $2000, and off the rack dress can cost a lot less, but also factor in alterations.
According to the norms-
The basic budgeting "rule" is that no more than 5 percent of your wedding budget should go toward the cost of your dress and alterations. That means someone buying a $5,000 dress might be spending more than $100,000 to host a wedding.
Who pays for the [lavish] weddings?
What does the father of the bride pay for?
This was expected in the past, but it is not a written rule.
The parents of the groom were expected to pay for the marriage license and officiant fee, the rehearsal dinner (including the venue, food, drink, decorations, entertainment—and yes—the invitations, too), and accommodations/transportation pertaining to the groom's family and groomsmen.
To ease the burden on both parties, here are few handy tips to make the most of your big day without going bankrupt.
Trim the guest list-
1. Avoid the huge number of guests unless you have a huge number of family or friends, keep to the smaller amount of guests.
2. Ask for the participation of your friends and family
Asking family and friends to offer help or services that align with their talents in lieu of a gift is a great way to keep your wedding on a budget. Ask them to perform at your wedding if your circle has musicians or ask them to click if they have a love of photography.
3. Hold the ceremony at home, or outdoors.
Renting a building or function hall for the wedding ceremony and reception can be very expensive. Instead, consider using your own home (or the home of a parent) for the ceremony, or perhaps a public park with a beautiful view.
4. Do the catering yourself, or hire a family-owned restaurant.
For our wedding, we handled our own food preparation and catering with a lot of help from my husband's family. This drastically reduced the food costs for the ceremony.
5. Make your own invitations.
With a home printer and some time, you can make very classy invitations on your own. We did that, we had no pictures or anything – just a very classic font and simple text. It looked stylish and didn't cost us much at all.
Online printing sites also offer cheap wedding invitations you can order from the comfort of your home. Their options aren't too fancy, but they'll certainly do the trick. You can even hire a freelance graphic designer to whip up a custom invitation for you on a site like Fiverr.
6. Borrow stereo equipment or use yours from home.
Rather than hiring a DJ, just use your own home stereo equipment or equipment you borrow from a friend. You can put speakers around the dance floor area – there's no need to spread them around the entire reception room. Create a playlist on your iPod that features a few hours' worth of your favorite songs to play. There are many ways to make this happen.
7. Stock the bar yourself.
Alcohol is a big expense when it comes to a lot of weddings, and it's also a big variable you can play around with to cut costs. Instead of opting for a full open bar, for instance, you can save money by offering just beer and wine, or a free cocktail hour followed by a cash bar.
8. Contact the local talent.
If you'd like live musical accompaniment for the ceremony (and perhaps for the reception), one place to look for lower-cost musicians is your local university's music department.
Contact them and ask if there are any students who are studying a particular instrument or vocal work and see if they're available to provide music for a wedding. It can help them develop their resume and save you on this typically pricey part of your wedding.
This goes for photographers as well — if there's an art school or photography program at your local college, see if there are any talented students or recent grads who would be willing to photograph your wedding at a discount for the portfolio-building experience and exposure they'd receive.
There are many ways to reduce the costs of a wedding as it is a commitment between two people with a license and an officiant to sign the paper, you are legally married.
The marriage takes less than half an hour to perform so all the trappings of the dress and all the hall, the picture-perfect day is forgotten very quickly by everyone.
The only people who will remember the day after it is all over, are you and your beloved.
So who would rather save the money from this elaborate affair and get married quietly and have a gathering of friends to celebrate the happy day? Your life begins together after the official I do, May I now present the New Mr and Mrs.
Remember, the elaborate wedding does not guarantee a successful happy marriage. Put the work in pre marriage to have a future together with not to many surprises!