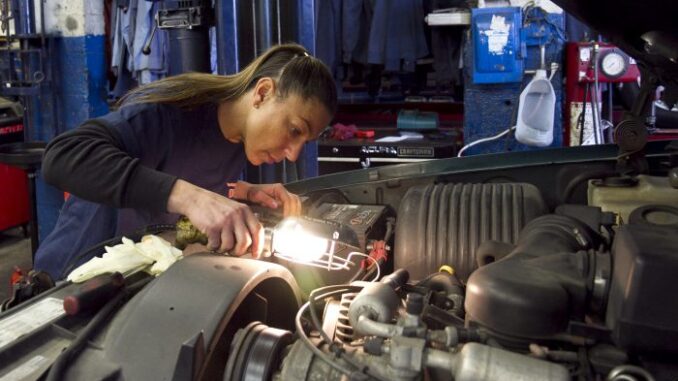 You don't have to be a mechanic to understand how your car works. Think of your car like the human body. From head to toe there are 8 essential parts to the body of your car. Learn what maintenance you can do at home to keep your car healthy, and when it needs a doctor.
ESSENTIAL #1
BRAIN AND IMMUNE SYSTEM
Dash lights are wiring are like synapses in your brain telling you how your vehicle is feeling. Look at the colors of the icons on the dashboard. They're like those on a traffic light: 
Green: Go baby, go! 
Yellow: Budget! Have some money set aside for maintenance
Red: Full Stop! Something needs ASAP attention
ESSENTIAL #2
SENSES & SIGHT
Use your intuition and pay attention. 90% of accidents are caused by poor visibility. You need to see and others need to see you. We check to ensure you have a great sense of sight, smell, look & feel. 
Tail Light – Brake Light – Windshield Wipers – Mirrors- Headlight and Lenses
ESSENTIAL #3
DIGESTIVE SYSTEM
Fuel and energy is the food that makes your vehicle go. to keep your vehicle healthy and running smooth. Know what you eat, It matters!  We check the health of your digestive system.
ESSENTIAL #4 
GOTTA HAVE HEART
You can't deny the MacDaddy of all hard working electrical parts. One loose connection and you're dead. We check your battery, starting and charging system.
ESSENTIAL #5
RESPIRATORY SYSTEM
Have you ever ran a marathon while having an asthma attack? Every breath you take counts, and that philosophy carries over to your vehicle. If a filter is dirty, it puts a strain on the system it filters. We check your exhaust and filters.
Air – Cabin – Fuel – Oil – Transmission
ESSENTIAL #6 
CIRCULATORY SYSTEM
Your circulatory system keeps blood pumping through your veins, like the fluids that run through the systems in your vehicle.  We check your fluids. 
Motor oil – Power Steering – Brake – Battery Coolant – Transmission – Washer 
ESSENTIAL #7 
REFLEXES 
No matter how cat-like your reflexes are, if your vehicle's brakes aren't working properly, you're in trouble. We check your brakes, steering, front end and suspension to make sure your vehicle's reflexes are as good as yours are.
ESSENTIAL #8 
JOINTS & MOBILITY * CHECK YOUR RUBBERS
Neglect will cause you to break down, get stuck on the road, waste your time and waste your money.  Rubber is used to transport fluids to each system, and support the structure of your vehicle. Being proactive offsets system failure. We check your rubbers. 
Tires – Belts – Hoses – Boots – Bushing
Now you know the 8 essential systems of your car. Click here to download a FREE copy of the 8 essentials. Make sure you keep up with repairs with this maintenance planner  from Ladies Kar Care. The next time you bring your car into the mechanic for a checkup, you will know what system they are fixing up, to keep your vehicle in good working order. 
Head over to women auto know to access our trusted auto shop directory. It only takes a minute to sign up. Click the share button if you'd like to help another woman be safe on the road.
Let them know you saw the article on Busy-Mom.com Online Magazine!