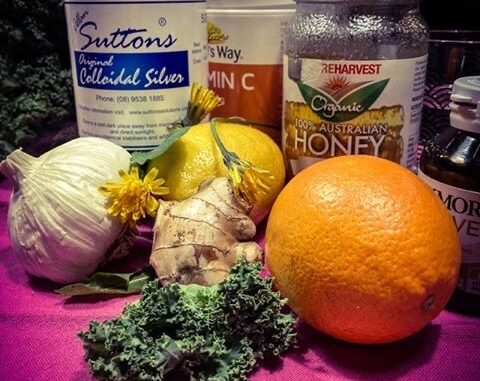 You can strengthen your immune system naturally.
Your own body is capable of healing through its
own built-in systems. The big 'but' here is will you help or hinder your immune system by your daily
lifestyle practices?
This article is also about not only boosting your own immune system but bringing your children up in the same way. This is setting them up for healthy, happy and strong lives. In ideal circumstances a baby is born with a healthy immune system. Over many years and into adulthood that can be systematically degraded.
Many people have their immune systems damaged by the way they live their lives or how they are brought up. This mostly depends on the knowledge of their parents, the country and community they live in. There can be a whole system out there in your own community that gives out the
wrong advice.
Many times the medical system will advise only on giving vaccinations and antibiotics after an infection has already taken hold. Antibiotics can be damaging especially to the gut. Your gut is health is the basis for a healthy immune system. Aim for gut health in your regular diet and lifestyle.
If you start to notice you get many viral and bacterial infections, you are always tired and never
seem to recover before getting unwell once again then it's clear your immune system is damaged.
Sometimes your immune system can be so weak that you have constant infections living in your body but you don't even have symptoms. That's because all those symptoms like cough, sore throat, blocked or running nose, stomach pain, fever and pain are signs that your immune system is fighting within your body. Most people aim to take prescriptions or over the counter drugs to eliminate symptoms quickly. In many cases you are hampering your immune system by shutting
down symptoms and blocking them.
Below is a list of items that contribute towards a healthy immune system:
1) Dandelion plant (source of nutrients that strengthen the immune system and much more)
2) Get at least 30 minutes of exercise daily
3) Eat fresh foods and non toxic water
4) Lose body fat
5) Lose visceral fat (dangerous fat around the internal organs)
6) Avoid harmful toxins in foods, water and the environment
7) Eliminate sugar and sugar drinks from your diet
8) Practice good hygiene — wash hands regularly and take care when cooking meat
9) Avoid smoking and alcohol
10) Fix your lack of vitamin C, D3 and E (they help support your natural immune system)
11) Zinc, folic acid, B vitamins, olive leaf extract
12) Start a daily meditation or stillness practice
13) Stress less and sleep more (stress creates the release of harmful hormones)
14) Support your body's own detox system (liver) (lots of green leafy vegetables and juice)
The above items should be part of your life every day to maintain your health.
If you find yourself getting ill with an infection — colloidal liquid silver and Oregano oil are natural antibiotics.
Add Horseradish, echinacea, grapefruit seed extract, Manuka honey, apple cider vinegar (organic) and raw garlic and onion to your meals.
Increase your vitamin C, drink hot water with honey, lemon and raw ginger.
"A strong healthy immune system is the basis of your life. Without it your body can succumb to becoming over-run by bacterial and viral infections. Many of these infections that a weakened immune system can't fight off have very long lasting affects that can bring about chronic illness and pain in the future."
I also teach and recommend mind/body health.
What you think you can do — you can do!
Remember – The Body Can Heal Itself!
https://www.choose-to-heal.com.au/