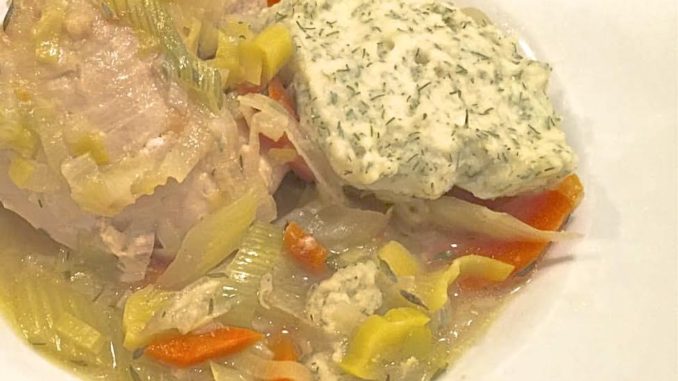 Have you heard the weather reports for this Thursday? The 60 degree weather we've experienced in February will give way to temperatures back in the 30's. Snow anywhere from 6-10 inches. Have you gone to the food store to stock up on your bread and milk?
It's amazing the stress the weatherpeople can render on the public. I considered going to the food store today, however, I'm hoping that by Friday the snow will be cleared away from the roads and I can pick whatever essentials I may need for the weekend. Friday appears to be the coldest day and then the temperature moves up to the low and mid 40's. Weather like this calls for a one pot meal, something hearty and good for those perhaps under the weather.
Back in February 1994 there appeared in Gourmet Magazine a recipe for chicken and dumplings. It's a hearty, flavorful dish. The addition of leeks and shallots and a touch of apple cider really  make this dish shine. The dill flavored dumplings topping the chicken type stew are light, not filling. It's a one pot meal that takes approximately 45 minutes from start to finish to prepare.